Can You Afford to Change Careers?
After the pandemic, 36 million people filed for unemployment. Many more were furloughed, had their hours cut, or were persuaded to retire early.
If you were impacted by the pandemic, or you are seeking a career change away from your current industry, your first questions are undoubtedly…
How much money do I need to make with my new career?
Should I make the change now… or wait?
And if you're still employed, you might wonder if you can actually afford to leave your current job. Add your bills, family, and other responsibilities, and you may worry that a career change just isn't in the cards. 
But at Guiding Wealth, we believe in making advised and educated decisions. Don't put off your career change forever. Get clear on when you can make the leap with the help of our super simple and effective Career Change Calculator.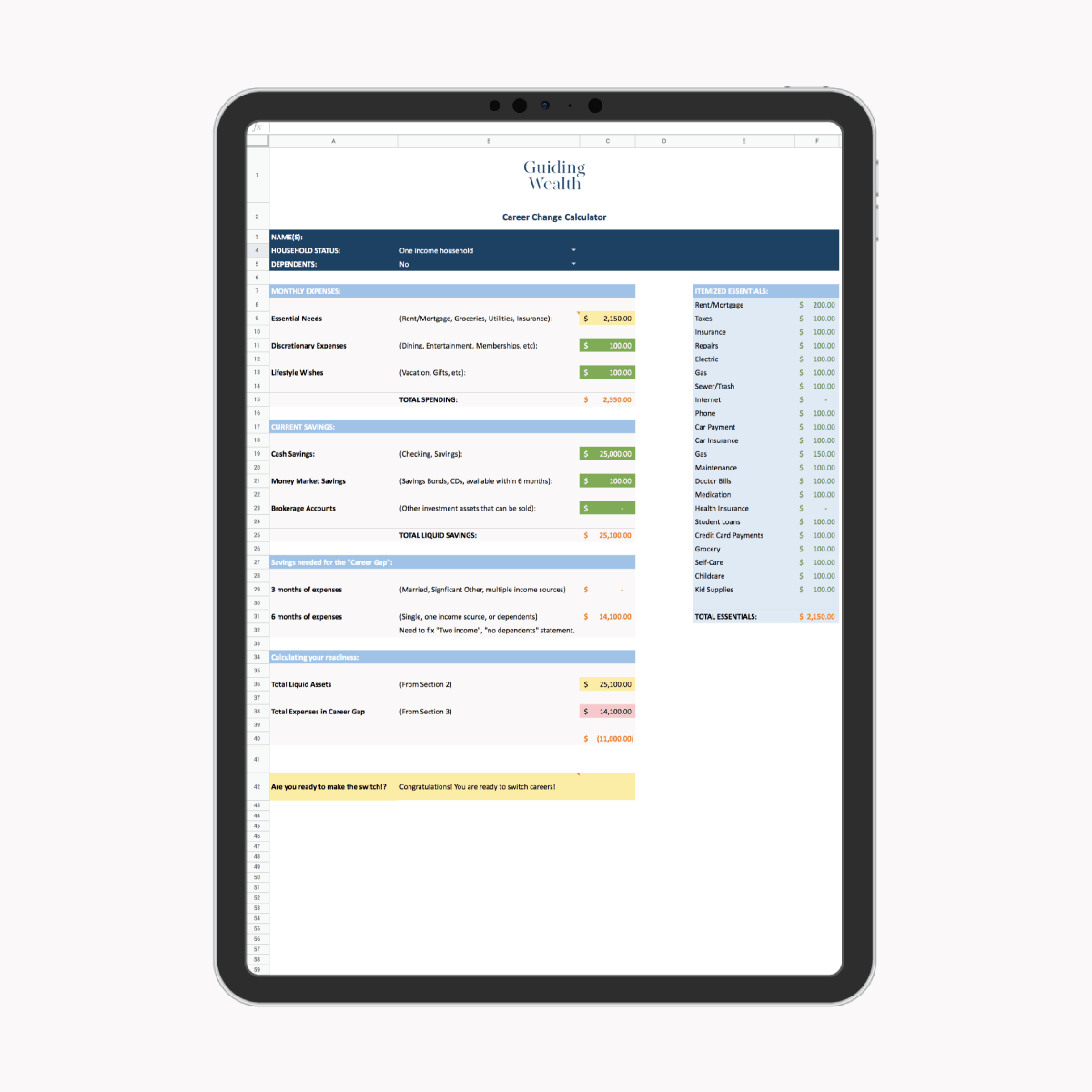 Use our Career Change Calculator to guide this important life decision
Inside the Career Change Calculator, you'll:
Calculate your current financial needs, including essentials, discretionary spending, and your lifestyle wishes.

Discover how much you need to save before making the big leap, based on your lifestyle, financial situation, and risk tolerance.

Get a clearer picture of your assets and what you might be able to use to fund your career change, whether for education or essential spending.
This calculator will give you perfectly clear numbers with a key to help you decide if and when is the right time to change careers. 
To access this Career Change Calculator, all you need to do is click the button below:
Want more help deciding if a career change is right for you?
Changing careers is a big step. Our Career Change Calculator can give you an idea if your finances are ready for that change!
However, there are many other factors to consider, like loss of employee benefits, what to do with your old 401(k), and understanding what new benefits will be available at your new employer. 
Guiding Wealth can help you with all of that — and more. Learn more about working with Guiding Wealth's Certified Financial Planner™ professionals today.