I once heard Michael Port, a successful author and speaker, talk about goals. He wrote Book Yourself Solid, which was released in 2006 and held the number 2 spot on the Amazon best seller list for three days. That would have qualified as a wild success for most, but instead of being pleased with this accomplishment, Michael was disappointed that he didn't make it to number one.
Michael said that if he would have set a specific goal of making the top 10 on the Amazon bestsellers list, he would have been thrilled with his success. But he hadn't set a definite goal – he had just thought that, based on his current success, he would see his book reach number one. Rather than experience the joy of success, he felt the defeat of failure.
How often does this happen in our personal lives? If values and goals are not defined, we may miss those successes simply because we weren't looking for them. Missing success happens far too often.
Why do we miss success?
NOT SETTING CLEAR GOALS
All too often, we go about life without intentionally thinking where we are headed. Or if we do think about where we are headed, we think of a general direction rather than clear goals. "Setting goals gives you long-term vision and short-term motivation" says an article on MindTools.com about personal goal setting. Having clearly articulated goals allow us to see progress and know when we should be celebrating success rather than letting these moments of victory go by unnoticed.
COMPARISON TO OTHERS
Many times we set out to achieve a goal and reach it, only to find out that the person next door beat us to that same goal or exceeded where we wanted to be. Our successes seem to diminish in light of someone else's success.
One of my favorite quotes is "comparison is the thief of joy" and it couldn't be truer here. We lose sight of our own story and journey and instead focus on other people's when we constantly compare ourselves. And many times we don't even know their full story or where they started from or how they got to where they are.
THERE IS ALWAYS MORE
Regardless of how great your success is, there is always more. There is always more money, more prestige or a more enjoyable opportunity. And the more we achieve or move along our journey, the more opportunities we are presented. Our expectations shift and suddenly our focus is on the next achievement or desirable outcome, forgetting what we originally set out to do.
In an article in Psychology Today, Jay Dixit states "one of life's sharpest paradoxes is that your brightest future hinges on your ability to pay attention to the present." If we don't mindfully appreciate what we have accomplished, we do ourselves a disservice.
Why are goals important?
NEVER BEING SATISFIED
Because there is always more, it becomes far too easy to stop being satisfied with what we have and strive for what we could have. We look forward to what could, or what we think should happen and forget to look to the present and appreciating what we do have.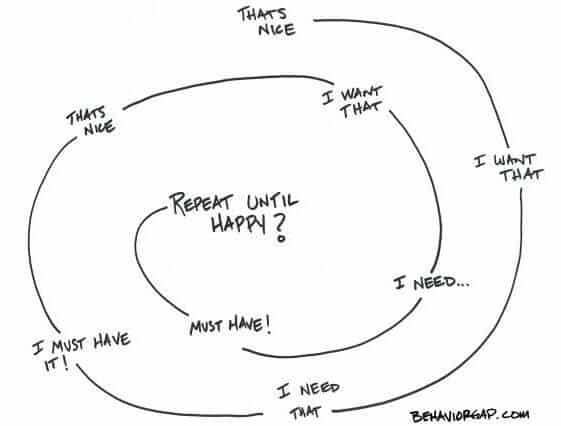 Happiness cycle
This creates an endless cycle of dissatisfaction. We believe that happiness will be waiting upon achieving the next milestone, yet when we finally get there, happiness can only be found hiding behind the next achievement. It's easy to forget that happiness is the journey, not an elusive destination.
AVOID LIFESTYLE CREEP
As a financial planner, I would be remiss if I didn't mention the financial implication of continually striving for more without giving heed to why.
As incomes rise, spending naturally rises as well. Lifestyle creep is innocuous: you get a raise and you treat yourself. Soon, you are treating and upgrading and splurging regularly; and before long, spending more becomes de rigueur. It's a subtle shift in expectations. We become used to what were once far off luxuries, and now can't imagine life without them.
Many times, I'll hear clients comment on how differently they live their lives now than they did before. Sometimes it's intentional, other times they look at their financial path and wonder how they got to the lifestyle they are at.
Improving your lifestyle isn't necessarily a bad result of success, what's important is whether or not your goals are intentional. Have you made a conscious decision how to spend any raises or windfalls, or are you floating down the lazy river of mindless spending?
ANCHOR YOUR LIFE
Making conscious financial goals anchors your life to your central values. It gives meaning to accomplishments and progress. It gives you the opportunity to make sure that the important things in your life stay important. It allows you to move forward with success without losing sight of where you want to be.
Set goals, recognize when they are achieved, and allow the sweet taste of success to fill your daily life.